Baney Bicycles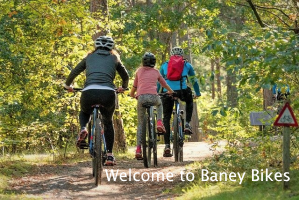 Located near the Shawnee National Forest, Rend Lake Reservoir and Crab Orchard Lake in Southern Illinois.
Partnered with American Bicycle Group - Chatanooga, TN, each of our bikes are custom made and designed for a lifetime of enjoyment.
We carry a variety of Titanium bicycles to accommodate any adventure. Each order is custom made for you based on your personal taste, personality, biking needs and budget.
Service
Includes
Estimated Time in Shop
Safety Checks
Thorough check of your bike
Approximately 1 hr
Clean up and Lube
Clean all surfaces
All required Lubrications
Approximately 30 mins
Brake Adjustments
Adjustment and Calibration of Braking System
Approximately 1 hr
Seat and Handlebar Adjustments
Proper Seat and Handlebar Adjusments to fit rider
Approximately 15 mins
Adjust Wheel Hubs
Calibration of all Wheel Hubs
Approximately 1.5 hrs
Calibrate Gears
Full Calibration of All Gears
Approximately 1 hr
Cable Replacement
Diagnosis and replacement - parts are extra
Approximately 20 mins
Parts Replacement
Diagnosis and replacement - parts are extra
Varies depending on part
Repair Bike Chain
Repair, adjustment and lubrication
Approximately 10 mins
Tire Repair
Patch or tire as needed
Approximately 15 mins
Other Misc Repairs
Free quote
Based on needs, will be included in quote
All Services charged at a rate of $10 per quarter hour